Total Fees Structure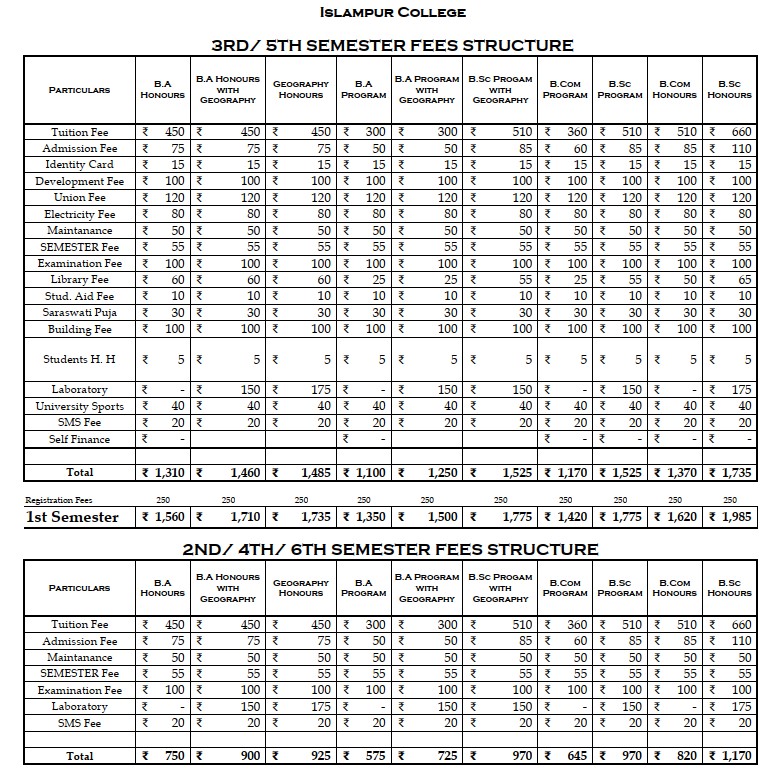 The College has an affiliation for teaching the following subjects :
a) B.A. (Program) :
i) English, Bengali, Hindi, Urdu, History, Economics, Political Science, Philosophy, Education, Sociology, Geography (To be Provided by the college strictly on merit basis)
b)B.A. (Honours) :
i) Bengali,
ii) English
iii) Urdu
iv) Political Science,
v) History
vi) Philosophy
ii) Geography
c)B. Com. (Program) :
i) Compulsory English and Bengali/Hindi/Urdu.
ii) Business communication and secretarial Practice, Money and Financial System, Economic Principles and Problems in India, Business Regulatory Framework and company law, Fundamentals of IT and its application in Business, Principles of Management and Entrepreneurship Development, Financial accounting Corporate
Accounting, Business Mathematics and Statistics Auditing, Direct and Indirect Taxes in India, Cost and Management Accounting and Environmental studies.
d) A Candidate Prosecuting Honours in a Language Subject shall not be allowed to take up another Language subject as elective
e)B. Com. (Hons.)
I)Accountancy
f)B.Sc. (Program)
I) Compulsory English and Bengali/Hindi/Urdu.
II) Physics, Chemistry, Mathematics as Elective subject
g)B. Sc. (Hons.) Mathematics.
[ Academic Session: Academic Session for both Hons. & Program Course Semester students are initiated from 01st January/ 01st July and breaks off at 30th June/ 31st December of the following year. For the next semester Honours student's Classes begin immediately after the previous semester's Examination.]